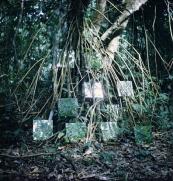 Smithson Project
"When art and memory combine, we become aware of the 'syntax' of communication."
Robert Smithson
The Shape of Time (2011) featuring Members of Ne(x)tworks and JACK Quartet in a live recording from The Kitchen, Dec. 2011.

Smithson Project is a developing body of work in various media that aims to create sonic and performative solutions to problems inspired by and considered in the writing and works of visual/conceptual artist Robert Smithson (1938-73).
The project began in response to filmmaker Redmond Entwistle's film Monuments, a non-narrative art historical piece obliquely exploring the ideas of Smithson and his colleagues Gordon Matta-Clark and Dan Graham. I wrote and recorded original music for the film, and to prepare I immersed myself in the impressive multidisciplinary output of the man known to many exclusively for the land work Spiral Jetty (1972). I immediately felt affinity toward his intellectual pursuits like the Site and Nonsite dialectic, "coded environments", crystallography, and beyond.
Currently, several types of material are in development for Smithson Project including multi-channel sound works and installations, site-specific perforamnce action (documented for installation content), solo trombone and electroacoustic ensemble work (see below for list of extent material). The ultimate goal is a 50-60 minute evening-length theatrical presentation that convolves these disparate composerly materials into a singular physical experience.

Works from Smithson Project have been presented in New York at The Kitchen, Greenwich House, and during the 2010 and 2013 MATA Festival's (le Poisson Rouge and Paula Cooper Gallery), and internationally at Theater Dakota, Den Haag, and by L'arsenale Ensemble, Treviso, Italy. An EP with sound works from SP entitled Monuments is currently available for purchase.
Please feel free to chris

cmcintyre [dot] com (subject: Smithson%20Project) (contact me) with questions about Smithson Project.
Smithson Project Repertoire:
Alogon (2010)
multi-channel sound work, premiere, 2010 MATA Festival
Kalimpong Khor (2010)
multi-channel sound work, premiere, 2010 MATA Festival
The Shape of TIme (2011)
mixed electro-acoustic ensemble, premiere, The Kitchen, Dec. 16 & 17
Phono-Markers (2012-13)
solo trombone (and soundtrack)
E-Set No.1 - premiere at Greenwich House, Oct. 27, 2012
2-Beat No. 1 (2012) - premiere at Greenwich House, Oct. 27, 2012
2-Beat No. 2 (2013) - premiere at Paula Cooper Gallery, 2013 MATA Fest Gala
Dedifferentiation No. 1 (2013)
UllU duo (synth/trombon & perc) and TILT Brass Sextet, premiere, June 27, 2013