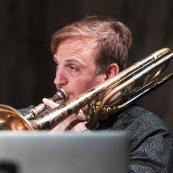 NEXT
Darmstadt's annual "In C" // le Poisson Rouge   map

Thursday, March 1, 2018 - 7:30pm

Again supporting my good friends Nick Hallett and Zach Layton by joining an always killer band of local music heads to release the power of Riley's ageless work. It's also a great hang so come out!

FB Event Page



Four Simultaneous Soloists (with Anthony McCall Solid Light works) // Pioneer Works   map

Friday, March 2, 2018 - 7:00pm


Installation view of Anthony McCall's solid light works

Four Simultaneous Soloists:
A series of performances organized by David Grubbs

Doors: 7PM
Performance: 7:30PM
Tickets: $15

March 2:
Jules Gimbrone – Objects and Electronics
Okkyung Lee – Cello
Chris McIntyre – Trombone and Synthesizer
Yoshi Wada – Bagpipes and Sirens

Full Schedule:
FRI, JAN 19, 7PM
FRI, FEB 2, 7PM
FRI, FEB 16, 7PM
THU, MAR 2, 7PM

From Pioneer Works' Event Page
"In much the same way that Anthony McCall's solid light works when exhibited together are experienced individually and as a group, this series of musical performances scheduled to take place within the exhibition imagines four performers—four soloists—experienced individually or as an ensemble.

For each performance, four musicians are dispersed equidistantly throughout Pioneer Works' 130-foot main hall, each situated adjacent to a solid light piece. The musicians play at a modest volume—either acoustically or with self-contained amplification—such that visitors are compelled to explore the space in order to realize different musical combinations through a succession of aural vantage points. There is no single location from which to garner an all-over sound perspective; visitors must actively bring smaller sounds into focus by approaching them within Pioneer Works' main hall.

Each of the four musicians on a given performance can be understood alternately as a soloist paired with a solid light work or as part of an ensemble. The selection of musicians, all of whom have extensive experience as improvisers, is motivated by the idea of the first-time encounter—none of the collections of performers will have previously performed in a given configuration.

Each of these performances begins with Anthony McCall's solid light works already running, and McCall's pieces continue after the last concertgoer has left. In this way it is established that Four Simultaneous Soloists—not an inaccurate way to describe the four vertical works on display in the main hall—is a performance project in which Anthony McCall's works function as preexisting entities whose mode of operation imprints itself upon the musicians.

For full schedule:

January 19:
Maria Chavez – Turntables
David Grubbs – Electric Guitar
Sarah Hennies – Percussion
C. Spencer Yeh – Violin and Voice

February 2:
Susan Alcorn – Pedal Steel Guitar
Eli Keszler – Drums and Percussion
Tomeka Reid – Cello
Nate Wooley – Trumpet

February 16:
MV Carbon – Cello
Che Chen – Woodwinds and Tape Machine
Miya Masaoka – Mono Chord, Objects and Koto, Computer
Ben Vida – Electronics

March 2:
Jules Gimbrone – Objects and Electronics
Okkyung Lee – Cello
Chris McIntyre – Trombone and Synthesizer
Yoshi Wada – Bagpipes and Sirens"

Duo with Lea Bertucci // JACK Bklyn   map

Friday, March 16, 2018

My stellar colleague Lea Bertucci and I will play her piece Our Collective Cynicism is a Product of Failed Revolution for trombone and tapes at JACK in Clinton Hill, Brooklyn.
Bio
Christopher McIntyre leads a varied career in music as a performer, composer, and curator/producer. He interprets and improvises on trombone and synthesizer and composes for TILT Brass (Co-Founder and Director), UllU, Ne(x)tworks, and choreographer Yoshiko Chuma. McIntyre is a member of Either/Or, has performed with ensembles including SEM, Talea, The Knights, Tri-Centric and Flexible Orchestras, and in composer-led projects of Zeena Parkins, Anthony Braxton, Anthony Coleman, Fast Forward, Elliott Sharp, Daniel Goode, Nate Wooley, David Behrman, James Fei, and John King. He had the honor of performing with Merce Cunningham Dance Co. during its Legacy Tour in 2011 (Bard, Dartmouth, and Kennedy Center.) He has recorded for Tzadik, New World, POTTR, Mode, and Non-Site Records. Curatorial work includes projects at Issue Project Room, The Kitchen, Guggenheim Museum, and The Stone, and Artistic Director of the MATA Festival (2007-10). More...