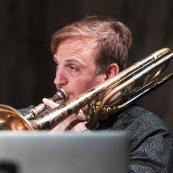 NEXT
S.E.M Ensemble: Cage, Kotik, and Eastman - 45 Years Later   map

Thursday, December 7, 2017 - 8:00pm



Music by Cage, Kotik, and Eastman: 45 Years Later
S.E.M. Ensemble at Paula Cooper Gallery
Facebook Event

John Cage: Song Books I, II (1970)
Petr Kotik: There is Singularly Nothing (1971-72)
Julius Eastman: Macle (1971-72)

Kamala Sankaram, Jeffrey Gavett, Jake Ingbar, Adrian Rosas, Nathan Repasz (voice soloists); Petr Kotik (flute, voice); Christopher McIntyre, Will Lang (trombone, voice)

Tickets available here: https://cagekotikeastman.brownpapertickets.com/

--------------------------------------------------------
*PREVIEW CONCERT* - free (suggested donation)
December 3, 4:30, Willow Place Auditorium (26 Willow Pl., Brooklyn).
--------------------------------------------------------

Yoshiko Chuma - Poetry Project marathon // St. Marks Church   map

Monday, January 1, 2018

CJM joins Yoshiko Chuma (with Dane Terry and Jason Kao Hwang) to perform during The Poetry Project's 44th Annaul New Year's Day Marathon Benefit Reading on New Year's Day, 2018. Time TBD.





Bio
Christopher McIntyre leads a varied career in music as a performer, composer, and curator/producer. He interprets and improvises on trombone and synthesizer and composes for TILT Brass (Co-Founder and Director), UllU, Ne(x)tworks, and choreographer Yoshiko Chuma. McIntyre is a member of Either/Or, has performed with ensembles including SEM, Talea, The Knights, Tri-Centric and Flexible Orchestras, and in composer-led projects of Zeena Parkins, Anthony Braxton, Anthony Coleman, Fast Forward, Elliott Sharp, Daniel Goode, Nate Wooley, David Behrman, James Fei, and John King. He had the honor of performing with Merce Cunningham Dance Co. during its Legacy Tour in 2011 (Bard, Dartmouth, and Kennedy Center.) He has recorded for Tzadik, New World, POTTR, Mode, and Non-Site Records. Curatorial work includes projects at Issue Project Room, The Kitchen, Guggenheim Museum, and The Stone, and Artistic Director of the MATA Festival (2007-10). More...