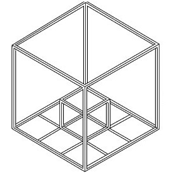 Zeena Parkins, Ne(x)tworks & JACK Quartet @ The Kitchen
Friday, December 16, 2011 -

8:00pm

-

10:00pm

Personnel
Ne(x)tworks: Joan La Barbara (voice), Shelley Burgon (harp, electronics), Miguel Frasconi (glass, electronics), Stephen Gosling (piano), Chris McIntyre (trombone)
JACK Quartet: Chris Otto, Ari Streisfeld (violin), John Pickford Richards (viola), Kevin McFarland (cello)
Zeena Parkins - composer, live electronics
Preshish Moments (Michael Carter) - creative technical director, live electronics
Cynthia Madansky - visual artist


Members of the "new music all-stars" (Time Out NY) ensemble Ne(x)tworks join forces with the "thrillingly vital" (Wash. Post) JACK Quartet to present the world premiere of composer and "renowned player and stretcher of boundaries" (Dusted) Zeena Parkins' Spellbeamed. Commissioned by Ne(x)tworks, Spellbeamed takes inspiration from literary critic Walter Benjamin's vast Archive. Each musician collects their own archive of quotidian materials then utilized in an animated score developed in collaboration with visual artist collaborator Cynthia Madansky. The resultant sound is further enhanced with live-processing by Preshish Moments and the composer, creating an ecology of inter-relationships developed between improvisers and readers, sound and score, objects and instruments.
Both evenings begin with the premiere of three additional works by Ne(x)tworks composers Joan La Barbara, Miguel Frasconi, and Chris McIntyre. La Barbara's Persistence of Memory explodes with "hammering rhythms, angular jolts, and jagged slashes of percussive attacks", all within an expansive, haunted electronic "atmosphere." Frasconi's Sitting & Standing: A Memoir employs "a physical activity we do without much thought… as the compositional DNA that allows each performer to construct a soundscape unique to their instrument and their own body." Smithson Project: Sites & Nonsites by McIntyre is a set of works ranging in style from ambient/concreté states to brutal, irregular structures. Each segment is a meditation on artist Robert Smithson's "nonsite" concept and the dialectical relationship to the origin "site."