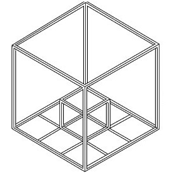 TILT Brass: Clocktower's SITE : SOUND // Knockdown Center
Knockdown Center, Queens, NY
Produced by Clocktower
Curated by Lea Bertucci.

Site : Sound Exhibition and Showcase - A sonic portrait and re-telling of the Site : Sound series, with performances by Eli Keszler, Stine Motland, Lea Bertucci, TILT Brass, and Ashcan Orchestra at Knockdown Center in Queens, NY. TILT's performance includes the premiere of a new version of Director Chris McIntyre's Runnegackonck Presencing for spatialized brass and multi-channel fixed media.

Site : Sound is a host of intimate site-specific lectures, sonic-spatial interventions, and performances celebrating the pliancy and tactility of acoustic experience. Taking place across three boroughs of New York City from April 23 to June 25, 2017, twelve contemporary sound artists, composers, and instrumentalists invite the public to channel their curiosity and join in an exploration of the auditory sense.
Purchase Tickets
Clocktower Event Page
Facebook Event Page
Knockdown Event Page