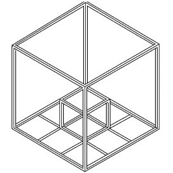 TILT Brass: Debut of CJM's "Meta Trombone" solo project at Greenwich House
Saturday, October 27, 2012
Saturday, October 27, 2012 8pm
Greenwich House Music School
$15 ($12)
TILT Brass presents the debut of Director Chris McIntyre's new solo trombone program, Meta Trombone. World premiere performances of works by Anthony Coleman and McIntyre, as well as UK/Berlin composer Richard Barrett's Basalt (1991) and McIntyre's realization of Cage's Variations IV (1963) involving multiple radios.
PROGRAM
John Cage Variations IV (1963, realization by McIntyre '12)
Richard Barrett Basalt (1991)**
Anthony Coleman The Thingliness of the Thing (2012)*
Chris McIntyre Phono-Marker from Smithson Project (2012)*
* World Premiere
** US Premiere
Trombonist, composer, and TILT Brass Director Christopher McIntyre presents Meta Trombone, a program of works for solo trombone (unaccompanied and with electronics) that presents a number of radically differing contemporary musical languages, each maintaining focus on the idiomatic sound and mechanisms of the instrument itself. Works include the ecstatically virtuosic Basalt by British "New Complexity" composer Richard Barrett, seminal indeterminate work by American music icon John Cage, and 2 world premiere performances of works by McIntyre himself (a solo live-electronic addition to his burgeoning series of works taking inspiration from American Earth artist Robert Smithson) and legendary "Downtown" New York pianist and composer Anthony Coleman.