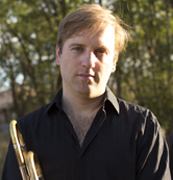 NEXT
Either/Or: Keeril Makan/Jay Schieb - Persona (2015) // Isabella Stewart Gardner Museum, Boston   map

Thursday, May 5, 2016 - 7:00pm

Ne(x)tworks: Subotnick Premiere & La Barbara Installation // Knockdown Center   map

Saturday, May 7, 2016 -

7:00pm

-

10:00pm

On May 7th, 2016, at the inspiring venue Knockdown Center in Maspeth, Queens, Ne(x)tworks gives the world premiere of Song by composer and electronic music pioneer Morton Subotnick for spatialized acoustic ensemble and speaker system.

Also on the event is Ne(x)tworks Co-Founder and vocalist Joan La Barbara's CYCLONE (1977/2016), a quadraphonic sound performance/installation of the newly restored multichannel work scored for multiple voices, percussion and Arp 2600 synthesizer sounds, for "semi-live" performance on multiple speakers with the original light panning device custom designed by Ralph Jones.


Knockdown Center's Event Page
Morton Subotnick's Website
Joan La Barbara's Website
Travel info to Knockdown

Duo with Sara Schoenbeck (bassoon) & CJM (trombone) // Bed Stuy house concert   map

Saturday, May 21, 2016 - 8:00pm

Apartment Series on Chauncey Street
Ben Gerstein / Ben Bennett / Michael Foster Trio
Frantz Loriot / Leila Bordreuil Duo
Tristan Shepherd
Christopher McIntyre / Sara Schoenbeck Duo

Contact me for exact location info.
More details here soon!

Bio
Christopher McIntyre leads a multi-faceted career in music as a performer, composer, and curator/producer. He is heard on trombone and synthesizers in a wide variety of settings, from orchestral and chamber music to open improvisation. His projects include leading TILT Brass (Director), UllU (duo w/ David Shively), Either/Or Ensemble, and Ne(x)tworks. His trombone skills have been utilized in composer-led projects of Anthony Braxton, Zeena Parkins, John King, R. Luke DuBois, David First, Elliott Sharp, and Anthony Coleman. He has recorded for Tzadik, New World, POTTR, and Mode. Curatorial work includes projects at The Kitchen, Guggenheim Museum, Issue Project Room, and The Stone, and Artistic Director of the MATA Festival (2007-10). More...