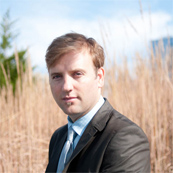 NEXT
Either/Or - Music of Nic Collins // Roulette   map

Monday, March 9, 2015 - 8:00pm

From Roulette's website:

In his first New York concert in four years Nicolas Collins presents a mix of recent works for ensemble and solo electronics. In Roomtone Variations the resonant frequencies of the Roulette concert hall are mapped, in real time, through controlled acoustic feedback, and projected as staff notation. Once the staves are filled the musicians in Either/Or improvise variations on the notes, gradually stepping through this site-specific "architectural tone row". The computer-generated notation in Bracken guides the ensemble through interactions inspired by Christian Wolff's "coordination" scores of the 1960s, extended by adapting techniques of electronic music onto acoustic instruments. In Speak Memory data files of pictures are encoded in sound, played back through speakers, momentarily stored in the reverberation time of the hall, but "forgotten" as the sound decays; the process is recorded, then reviewed in slow motion, revealing the erosion of sound and image. Circuits and software round out an evening of adventurous electro-acoustic music.

Music of Stephen Prina // The Kitchen   map

Wednesday, April 22, 2015

Music Director for an evening of work by renown visual artist and musician Stephen Prina.
Bio
Christopher McIntyre leads a multi-faceted career as a solo and ensemble performer, composer, and curator/producer. He is heard on trombone and synthesizers in a wide variety of settings, from orchestral and chamber music to open improvisation. His projects include leading TILT Brass and 7X7 Trombone Band, and collaborative efforts such as UllU (duo w/ David Shively), Either/Or, and the creative music group Ne(x)tworks. His trombone skills have been utilized in composer-led projects of Anthony Braxton, Zeena Parkins, John King, R. Luke DuBois, David First, Michael Schumacher, Elliott Sharp, Jonathan Bepler (w/ Matthew Barney), and Anthony Coleman. McIntyre is an accomplished interpreter of the music of John Cage, performing with Merce Cunningham Dance Co (Legacy Tour, Lincoln Center Festival), Orchestra of the S.E.M Ensemble (Carnegie Hall, Paula Cooper Gallery), and with Ne(x)tworks (2012 MärzMusik, Berlin, Lincoln Center Atrium, Bowerbird Cage Festival, Philadelphia). He can be heard on the Tzadik, New World, Mode, POTTR, and Non-Site record labels. In his composing, McIntyre experiments with elements such as spatialization, improvisative strategies, crystallographic rhythmic patterning, and symmetrical pitch construction. He has contributed work to the repertoire of UllU, TILT, Ne(x)tworks, 7X7 Trombone Band (septet music for choreographer Yoshiko Chuma), Flexible Orchestra, and B3+ brass trio. Beyond performing and creating music, McIntyre is active as a curator and concert producer, with independent projects at venues including The Kitchen, Solomon R. Guggenheim Museum, Issue Project Room, and The Stone (June 2007), and as Artistic Director of the MATA Festival (07-10).