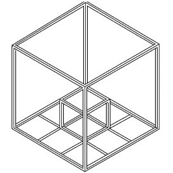 Artists-In-Residence Alumni Collaborations // ISSUE Project Room
Thursday, January 19, 2017 - 8:00pm
ISSUE Project Room 22 Boerum Place Brooklyn, NY
From ISSUE Project Room's Event Page

"Drawing its participants from the first 10 years of ISSUE Project Room's Artists-In-Residence Program, AIR Alumni Collaborations is a performance that brings together former ISSUE resident artists in striking new combinations. Eccentric, interdisciplinary, and deeply experimental, the new collaborations showcase the wide-range of approaches found within the ISSUE community, amplifying each artist's personal aesthetics while drawing unexpected parallels between their work.

Thursday, January 19th, ISSUE presents three first-ever collaborative performances by former ISSUE Artists-In-Residence focusing on highlighting their parallel and divergent performance strategies. Cellist, vocalist, and electronics producer Audrey Chen performs alongside two key members of the collaborative ensemble Ne(x)tworks: renowned vocalist Joan La Barbara and composer, improviser and electro-acoustician Miguel Frasconi. Berlin-based composer and synthesist Doron Sadja pairs his particular style of multi-channel spatialized sound, pristine electronics, dense noise, and immersive light projections with multimedia artist Rauel De Nieves' encompassing narrative and multimedia performance style. MV Carbon performs a new collaboration with media artist Bradley Eros sharing the role of manipulating sound and image on a new project called The Mystery of Spiders -- a sound & projection performance conceptualizing scores based on spider webs.
Curated by Lea Bertucci and Chris McIntyre