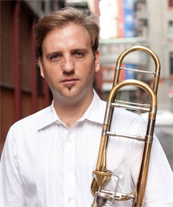 NEXT
Duo w Chris Cochrane // Work 00 Series at The Sump   map

Wednesday, June 14, 2017 - 8:00pm

New improvising duo with legendary Downtown electric guitarist Chris Cochrane. Performing on David Watson's Work 00 series at The Sump in Bushwick.

Work 00 on Facebook

TILT Brass: Clocktower's SITE : SOUND // Knockdown Center   map

Sunday, June 25, 2017



Site : Sound Exhibition and Showcase - A sonic portrait and re-telling of the Site : Sound series, with performances by Eli Keszler, Stine Motland, Lea Bertucci, TILT Brass, and Ashcan Orchestra at Knockdown Center in Queens, NY. Site : Sound is a host of intimate site-specific lectures, sonic-spatial interventions, and performances celebrating the pliancy and tactility of acoustic experience. Taking place across three boroughs of New York City from April 23 to June 25, 2017, twelve contemporary sound artists, composers, and instrumentalists invite the public to channel their curiosity and join in an exploration of the auditory sense.


Knockdown Center

Produced by Clocktower / Curated by Lea Bertucci.
Trombone Repertoire
I have been pursuing quality material for the tenor trombone my entire career. This on-going investigative process led quite naturally to my engagement with the composer community in New York and beyond, and to my activities as a curator and organizer. And, for the past 7 years, I've been adding to that "material" as a composer. This list is an aesthetic bibliography, informing all that I do. [CJM]
* = world premiere
** = US premiere
SOLO
Luciano Berio – Sequenza V for solo trombone
Kitty Brazelton – La Vida Como Una Tromba Larga for solo trombone and tape
Earle Brown – November 1952 (realization for trombone by McIntyre)
John Cage – Solo for Sliding Trombone (from Concert for Piano and Orchestra)
Philip Glass – 1+1 (realization for trombone by McIntyre)
John King – Stretchbone (Premiere)*
Christopher McIntyre – stuplimity no.3 for trombone and laptop*
Phill Niblock – A Trombone Piece for solo trombone and tape
Phill Niblock – A Third Trombone for solo trombone and tape
Folke Rabe – Basta for solo trombone
Bernard Rands – Memo 2 for solo trombone
Fredric Rzewski – Last Judgment for solo trombone (also trb. ensemble)
Iannis Xenakis – Keren for solo trombone
WITH PIANO (selected)
Paul Creston – Fantasy (piano reduction)
Henri Dutilleux – Prelude, Cadence, et Fugato
Launy Grondahl – Concerto (piano reduction)
Paul Hindemith – Sonate
Kazimierz Serocki – Sonatina
Stjepan Sulek – Sonata (Vox Gabrieli)
Jean-Michel Defaye – Deux Danses
Jacques Castéréde – Sonatine
MISC. ENSEMBLE (selected)
Richard Barrett – EARTH for trombone and percussion**
Anthony Coleman – Seven at The Golden Shovel for trp, trb, vln, vlc, pno*
Heiner Goebbels - Herakles 2 for 2 trp, hrn, trb, tba, perc, smplr
Jon Gibson – Untitled for flute, violin, and trombone
Christopher McIntyre – stuplimity no. 1 for trombone septet*
Christopher McIntyre – stuplimity no. 2 for 5 or more trombones*
Vincent Persichetti – Serenade for trombone, viola, and cello
Stephen Rush – Rebellion for trombone, piano and percussion
Charles Wuorinen – Trombone Trio for trombone, piano and perc.
Lois V. Vierk – Jagged Mesa for 2 trumpet, 2 ten. trombone, 2 bs. trombone
Peter Zummo – Instruments for trumpet, trombone, cello, and marimba