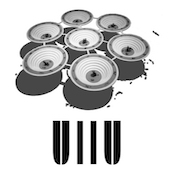 NEXT
Duo w Chris Cochrane // Work 00 Series at The Sump   map

Wednesday, June 14, 2017 - 8:00pm

New improvising duo with legendary Downtown electric guitarist Chris Cochrane. Performing on David Watson's Work 00 series at The Sump in Bushwick.

Work 00 on Facebook

TILT Brass: Clocktower's SITE : SOUND // Knockdown Center   map

Sunday, June 25, 2017



Site : Sound Exhibition and Showcase - A sonic portrait and re-telling of the Site : Sound series, with performances by Eli Keszler, Stine Motland, Lea Bertucci, TILT Brass, and Ashcan Orchestra at Knockdown Center in Queens, NY. Site : Sound is a host of intimate site-specific lectures, sonic-spatial interventions, and performances celebrating the pliancy and tactility of acoustic experience. Taking place across three boroughs of New York City from April 23 to June 25, 2017, twelve contemporary sound artists, composers, and instrumentalists invite the public to channel their curiosity and join in an exploration of the auditory sense.


Knockdown Center

Produced by Clocktower / Curated by Lea Bertucci.
UllU (duo with David Shively)
UllU (Hindi for "owl") is Chris McIntyre (trombone, tapes, synths, drums) and Dave Shively (feedback, drums, tapes, combo organs, siren). Sharing both an interest in the ecstatic potential of the drone and an inescapable engagement with Modernism, UllU perform works of extended duration in which practical mechanics of sound production collide with formal concerns. Shows at Incubator Arts Project, The Stone, Experimental Intermedia, and collaborations with TILT Brass, Eli Keszler, Taylor Levine, and James Fei. August, UllU's debut recording, is available on Non-Site Records (www.non-siterecords.bandcamp.com). In South Asian tradition, the owl is in fact considered a very foolish bird.