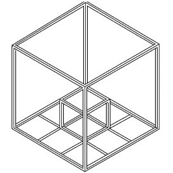 Yoshiko Chuma & School of Hard Knocks // Brooklyn Studios for Dance (BKSD)
Saturday, November 19, 2016
-
Sunday, November 20, 2016
210 Lafayette Avenue Brooklyn, NY 11238



π=3.14… continues "Dead End, Falling"
by Yoshiko Chuma/School of Hard Knocks

From Yoshiko
"Dead End , Don't Let Me fall is the latest in a series of multimedia performance π=3.14… which was started in 2007 as a work perpetually in progress. It is a set structure under the concept "the invisible rehearsal". The series has been concerned with borders, displacement and violence. Endless peripheral border makes the notice "We are not so different from one other."
BKSD website
BKSD Event Pages for 19th / 20th