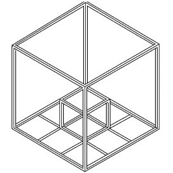 Yoshiko Chuma - Pi = 3.14... THREAT // Howl Gallery
Sunday, December 13, 2015 - 7:00pm
7 E. 1st Street New York, NY
Yoshiko Chuma and the School of Hard Knocks
present:
π = 3.14…THREAT
Concept: Dry Tech and Direction by Yoshiko Chuma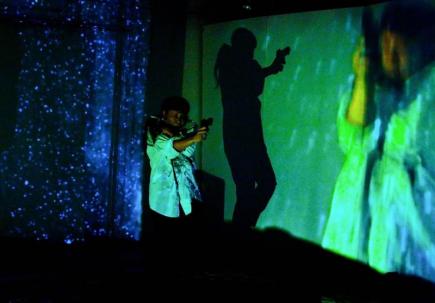 Featuring: Heather Litteer and Miriam Parker ( Actresses), Yukio Suzuki and Yoshiko Chuma (Dancer), and Christopher McIntyre (Musician, trombone)
The School of Hard Knocks Under the artistic direction of Yoshiko Chuma, The School of Hard Knocks is a New York-based collective of choreographers, dancers, actors, singers, musicians, designers, and visual artists. Since premiering at the 1980 Venice Biennale, this award-winning company has created and performed over 60 original works in the United States, Asia, Europe, and the Middle East. The School of Hard Knocks takes its name from the American idiom meaning to learn things the hard way on the proverbial "street," and was first used as the title of a performance at the 1980 Venice Biennale. Over the course of the company's history, more than 2,000 people have performed to wide critical acclaim under Chuma's direction in theatrical dance concerts, street performances, grand parades, large-scale spectacles and
intimate living rooms.
Yoshiko Chuma, Conceptual Artist/Choreographer/Artistic Director of The School of Hard Knocks, has been a firebrand of New York's downtown dance scene since arriving in 1976. She has created more than 60 full-length company works, commissions and site-specific events for venues in 35 countries, constantly challenging the notion of performance for both audience and participant. Her work has been presented in such diverse venues as Pyramid Club, Danceteria, Joyce Theater, the Eiffel Tower, Newcastle Swing Bridge, City Center, Lincoln Center, the former National Theater of Sarajevo, the perimeter of the Hong Kong harbor, World Financial Center, and an ancient ruin in Macedonia, among many others.
Heather Litteer is an actress, performance artist and chanteuse originally from Georgia but now calls NYC her home. She is a member of Caden Manson's Big Art Group touring internationally and in the states.
She is the recipient of the 2014 Fox Fellowship with The William and Eva Fox Foundation and TCG. La Mama will be her resident company throughout this process and will be presenting her one woman show "Lemonade" at La MaMa 2016.
Her daring film choices include working with directors Mary Harron, Jane Campion and Darren Aronofsky. Most recently playing the sexual revolutionary Queen Bee in John Reed's Film "ReVo" and Vicky, a killer for hire in "Dumbo" with Brazilian director Gustavo Von Ah'. She is a Member of the legendary Jackie Factory.
Miriam Parker is a New York City born and bred dancer/performance artist and arts organizer. She feels very fortunate to have had the opportunity to work with the School of hard knocks for the past 4 years. In recent years she has been building her reputation in collaborative performance art, working with the artist Jo Wood Brown on a interdisciplinary project "InnerCity Projects"
Yukio Suzuki is a dancer and choreographer. In 1997 he began studying Butoh dance and later performed in works by Ko Murobushi and so on. In the year 2000 he founded his own company, "YUKIO SUZUKI Projects". The basic principal of his interpretation is not the technique, but the character of the dance language, for which he has been acclaimed even outside of his native Japan. He has been touring in over 40 cities worldwide, enthralling audiences with his pliant, delicate, and tenacious movements.

Christopher McIntyre leads a varied career as performer, composer, and curator/producer. He interprets and improvises on trombone and synthesizer and composes for TILT Brass, UllU duo, and Ne(x)tworks. He has recorded for Tzadik, New World, POTTR, and Mode. Curatorial work includes projects at The Kitchen, Guggenheim Museum, Issue Project Room, and The Stone, and Artistic Director of the MATA Festival (2007-10).